Khadija and Deryn at the female quarters of the mosque in Exeter. They go to pray at the mosque 2-3 times everyday as well as being part of Quran and language and yoga groups in the mosque.
Amy is born and raised in a small cornish village. The furthest she ever travelled was to visit her brother in London. Through a online forum she learned about islam and decided to become a muslim. She met a young Egyptian man online and got engaged to him. Without telling her parents she travelled to Egypt where she married him. They now live in Cornwall.
Khadija and Deryn covering their hair before leaving the house.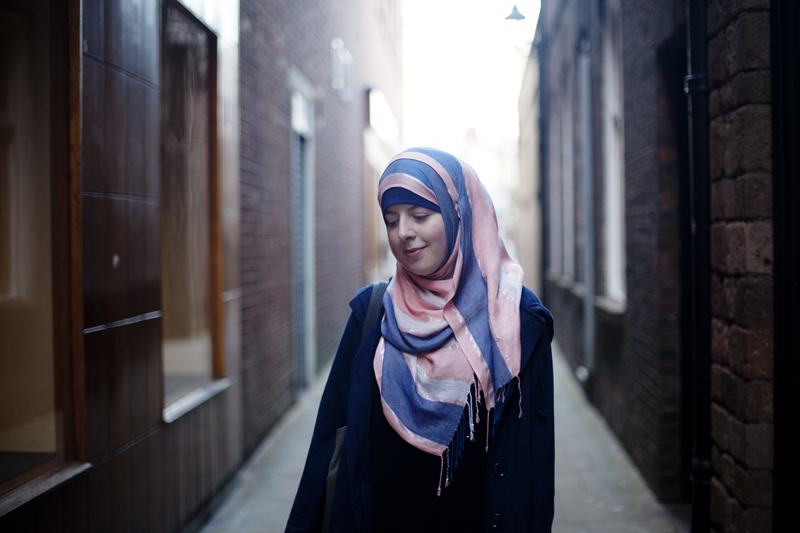 Deryn in the highstreet of Exeter. She became a muslim whilst studying at Exeter University away from home. Her parents lives in Wales and had a hard time accepting her choice and beliefs.
Deryn outside the mosque in Exeter.
Khadija is born and raised in Manchester to Chinese parents. She converted when she was living in Exeter and to this day she still has not told her family who raised her Budhist. She removes her hijab when she visits home and feels that she is denying her religion. She is planning to tell them soon.
Deryn trying on one of Khadijas abayas.
Khadija sleeping at Deryn's bed. The girls has been best friends since they met as newly converted muslims.
Deryn: " I want to be a size 8 but its so easy to just forget about dieting when you wear a abaya everyday and people can't tell. We go to this buffet for the cakes quit often".
Khadija is english. She is born here and even tho she loves the country she hopes to marry a man from Saudi Arabia or another muslim country. She has never travelled outside the UK but she dreams of living in a islamic nation with a religious husband.
The cornish home Amy was raised in and still lives with her parents whilst waiting for Omar's visas to be processed. At the time this photo was taken they had waited for three years due to his military service in Egypt and the beginning for the Arab spring.
Amy with her mum at their local church in Cornwall. Her mother is a active member and is a devout christian and felt devasted when she first learned that her daughter converted to Islam and married an Egyptian man behind her back. She has accepted Amy's decision and supports her through everything.